Hungarian-born Krisztina De Châtel, director of De Châtel sur Place, based in Amsterdam, Holland, will co-present a Presentation Master Class at the 2nd Cape Town International Dance Festival on Friday 2 December. De Châtel will be joined by members of her company and their rehearsal director, Dries van der Post.
The hour-long event is a rare opportunity to observe the choreographer and company at work; and for a personal introduction to the company's festival offering, Waltz (2010). Waltz is an energetic and powerful piece that explores the impact of war as experienced by a collective and the individual who, even in times of crises, war and sadness, Waltz on, keeping up appearances, pretending life as normal. Note that this is not a participatory master class, but an observational one with time allocated for a personal engagement with the participants.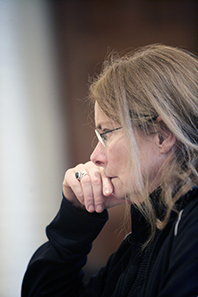 Master Class Presentation with Krisztina de Châtel
Friday, 2 December, 5:30pm – 6.30pm
Centre for the Book, 62 Queen Victoria Street
Tickets: R150
TO BOOK: Quicket.
About Krisztina
After decades of dance and more than 70 choreographic pieces in her oeuvre choreographer Krisztina de Châtel's art increasingly reflect the world we live in. While some of her recent projects have involved new media and virtual space, she frequently involves people in their physical spaces, skateboarders, firemen, garbage collectors. Driven by an urge for innovation she has presented work in museums, a church, a greenhouse, on sand dunes.
She founded De Châtel sur Place as a platform from where to bring such innovative artistic projects to life, on location and on the scale required. The tensions explored and experienced as a result of her creations are those between man and nature, man and machine, art and corporation, performance art and fine art.
While she increasingly engages with such philosophical implications of performance and the space and environment it speaks to, for Krisztina dancers' technique and choreographic composition remain at the core of each of her creations.
February next year will see the publication of Denk! Dans! Leven en werk van choreografe Krisztina de Châtel, by philosopher writer Désanne van Brederode. The work explores the connection between Dance and Thought whilst at the same time providing a biographical overview of De Châtel's life, her youth in Hungary and her disconnected life in the Netherlands.
De Châtel sur Place at #CTIDF2016
Thursday 1 December, 7pm, SA Museum Amphitheatre (Free event)
Friday 2 December, 5.30pm, Centre for the Book: Master Class / Introduction to Waltz. Tickets R150 through Quicket
Saturday 3 December 5pm, NY145 Park, Gugulethu (Free event)
Sunday 4 December 8.15pm, Oude Libertas Amphitheatre, Stellenbosch. Tickets R180 through Computicket
#CTIDF2016 De Châtel Master Class: rare opportunity to experience dance 'at work'